Read our 2021 Update: What Do Marketing Agencies Charge?
What an agency charges for its services shouldn't be one of life great mysteries, nor should it be a question people are uncomfortable talking about. In the old days (think Mad Men), Advertising Agencies mainly existed to help clients develop creative ad campaigns for television, print, and radio. They made money based on the 'ad spend' where the agency would purchase the media on behalf of the client and received a 10%-20% commission on the media spend itself. So if a client spent $2,000,000 per year on 'media', the agency would see a 15% cut ($300,000 in this case) and provide the creative as a part of the service. While the models and commissions varied slightly, it was a fairly simple formula.
These days, agencies provide a multitude of specialized services that don't always include media. Often clients will use specialized media agencies for the purchasing of ads, and a creative company for the development of the campaign or other brand assets now. This has spawned a shift in fee structure for many agencies to focus more on time and materials, and less on media. As the industry gravitates to providing niche services vs. full service, this has become more and more commonplace.
With all of that being said, many agencies (usually larger ones) will continue to work on a media basis for clients that have large advertising budgets. But what about clients that don't invest in Outbound advertising and use agency services for collateral, website, signage, inbound marketing, and other non-media based projects?
Creative agencies will typically charge in 2 different ways:
Time & Materials
As a time billing industry, services are provided much like they are by accountants and lawyers. Services are provided, time is accrued by the agency, and the agency bills on an hourly basis for the time. For materials (proofs, supplied, copies, printing etc), these are often added with a 15-20% markup from costs.
Hourly rates in the industry differ — by quite a lot. You can expect fees from as little as $40/hour from a stay-at-home freelancer (inexperienced) to $300/hour for Creative / Strategic Direction at global ad agencies. In our region (western Canada), a typical agency rate band will be between $100 & $175 per hour for services ranging from project management to graphic design, illustration, programming, or creative direction. Agencies often use different rates for different specialists within the company depending on market rates, and the skill level of the person fulfilling the service. The most talented teams will command the highest prices, as demand is usually high for their services, but often the results are very worthwhile.
Flat Rate or Project Cost
For some projects, you may receive a flat rate price for a package of goods and services, regardless of time and materials. This is more common if your project has a defined scope and the agency has experience delivering a specific product (brand identity packages, for example).
In 1988, Paul Rand, one of the world's most well known 'logo' designers, famously charged Steve Jobs $100,000 for the development of the 'NeXT Computer' logo. They were given one idea and one only. There was a tremendous amount of value earned from the very fact that it was the legendary Paul Rand producing the work and despite the 'quantity' being only one, the quality expectation was unquestionable.
How Do You Set Your Budget?
When determining your budget allocation for projects, the cost of professional services can often be a determining factor for whether a project will proceed, or sit idle in the 'nice-to-have' column. Here are a few insights.
Have an honest conversation upfront with your agency about the budget you have available. Determine what exactly you need to accomplish, and what limitations you have. In most cases, this doesn't result in your agency spending every dollar you have. It results in them maximizing your budget to make the absolute most of it. Having this conversation early on can also determine if your agency is the right fit based on budget, and spare both parties some time in preparing nonstarting proposals. In our firm, I always aim to set some expectations early on to avoid any unwanted surprises later in the project.
Develop your financial benchmarks for the project. If you have the completed project in hand, what are the expected business outcomes? More leads? Better brand awareness? High price position? Increased market share? Once you have a sense of what the financial value to your company is, you'll be able to better measure the value of the investment. If your project has a definable ROI, share that information with your agency!
If your project has no definable financial outcome or ROI (for example; a corporate art installation in a lobby), then you are probably searching for pure talent rather than a business process. To match an agency to your needs, the criteria should be subjective, not financial.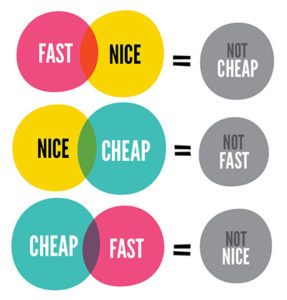 It's tricky to find a great financial match when shopping for an agency so use factors like fit, experience, creative approach, or business process to find agencies you want to work with. Have an early conversation to ensure financial fit and don't be shy to share your budget expectations with your agency.
Here is a fun little chart to help you better understand what you might expect. You can have it fast, nice or cheap, pick 2!
We wrote a new blog that discusses this topic 7 years later, if you're interested in learning more then click here!